It's a frustrating situation when you've got an excellent cold beer, but you can't open it. Using a bottle opener can be a little bit confusing for those who are not aware of these tiny tools. Keychain bottle opener is a popular gadget these days; because of their portability, you can attach them to your keychain and enjoy your beer bottle wherever you are. You will often find bottle openers incorporated in a multi-tool or even as an extra feature on some pocket knives.
How to Use a Beer Bottle Opener?
A bottle opener is a quickest and most convenient tool for opening a beer bottle. Before you begin, make sure your beer does not have a flip-off cap, this method is mostly used for the standard 21-tooth crown cork bottle cap.
How to Remove the Cap of a Beer Bottle Using a Bottle Opener?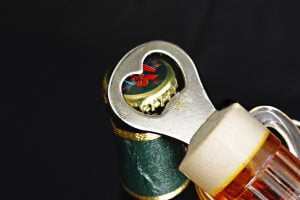 Bottle openers are essential when it comes to opening beer bottles; the ease of use makes them a must-have gadget for anyone who spends time with his friends watching a baseball game and enjoying a few cold refreshing beers. If you want to open a beer bottle using a bottle opener, here are the steps you need to follow to succeed.
Hold the beer bottle in one hand and the bottle opener in the other

Make sure the sharp part of the opener is underneath the bottle cap

Lift the bottle opener using a little bit of force of your hand

The cap will pop off from the bottle

Enjoy your cold beer.
It wasn't hard, was it? These bottle openers are truly a remarkable gadget any beer-lover should have with them.
Video Credits: Trend Spotter
How To Use a Wine Bottle Opener?
Often during parties, after eating, there is nothing better than enjoying a nice bottle of wine; red or white is up to your taste, but how do you open the bottle of your favorite wine? Opening a bottle of wine is quite different than a beer bottle, which is much easier and can be done with many other objects other than the bottle opener.
Using a Corkscrew opener to open a wine bottle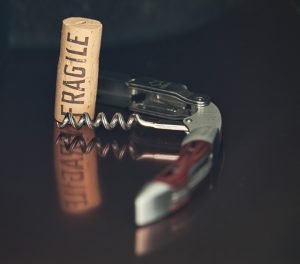 Often named waiter's corkscrew or wine keys, this tool is an essential gadget to have if you are a wine-lover or you work in a restaurant. These tools are the perfect combination of portability, affordability, and utility for opening wine bottles; there is no reason not to have one of these tools in your home.
How can you open a wine bottle with the wine keys? Here are some easy steps to follow.
Remove the foil from around the bottle head

Set the corkscrew on the center of the cork and twist it as much as you can into the cork

Place the small boot lever notch on the lip of the bottle and hold it in place

Rise the handle to pull the cork

Have the second boot lever notch on the tip of the bottle to fully pull the cork out

Remove the corkscrew from the cork by reversing it while holding the cork

Enjoy your glass of wine
The bottle opener is not a complex tool but an essential gadget for EDC enthusiasts. Lately, the bottle opener can be found together with knives, while the corkscrew bottle opener is often available in many multi-tools.
Video Credits: Wine Caviar
Conclusion
This is it. We reached the conclusion of our guide regarding the famous bottle opener. We hope you managed to open your desired bottle of beer or wine by following our guide and enjoying your drink. These tools are quite affordable and portable; you just can't afford to not own one in your home.
What do you think about the bottle opener? Should people use it more often? What about the Corkscrew opener?