*This site contains affiliate links to products. We may receive a commission for purchases made through these links. Please read our Affiliate Disclosure for more.

Are you looking for a tiny package to fulfill most of your tool needs? The answer to this question is Style PS multi-tool by Leatherman. The product has been designed, keeping the users need in mind. The eight-in-one multi-tool is nice to have on hands. The best thing about this multi-tool is that it can fit into your palm, or you can also attach it with your key chain. You can carry it anywhere you want as it does not include a blade. You can find many bigger and unique multi-tools in the market, but Leatherman Style PS multi-tool assures both efficiency and portability. This tiny tool is a combination of beneficial tools in a TSA friendly configuration.

LEATHERMAN, Style PS Keychain Multitool with Spring-Action Scissors and Grooming Tools, Built in the USA, Black
TRUSTED TRAVEL-TOOL: The ultimate pocket-sized multitool for travel, campsites and life on the go; Made with stainless steel and glass-filled nylon
BUILT FOR FUNCTIONALITY: Includes all the necessities, from spring-action needlenose and regular pliers to spring-action wire cutters and scissors, screwdrivers, combination carabiner and more
OUR GUARANTEE: We're proud to stand behind every product that leaves our factory in Portland, Oregon; That's why we offer our 25-year warranty, so you can be confident your Leatherman lasts a lifetime
Leatherman Style PS Review – Overview
The compact size of only 2.9 inches and lightweight of about 1.4 oz. makes Style PS easy to carry around everywhere. The body of the product is made with stainless-steel and glass-filled nylon handle scale, ensuring enhanced durability. The tool setup is very simple but gets the job done for most small tasks. Everything about the multi-tool is designed for ease of use, portability, and compliance with security regulations. And the amazing part is that the multi-tool is not hard on your pocket. It comes with a 25-year warranty for repairing and replacing any tool. Now let's have a detailed look at all the tools this Style PS offers.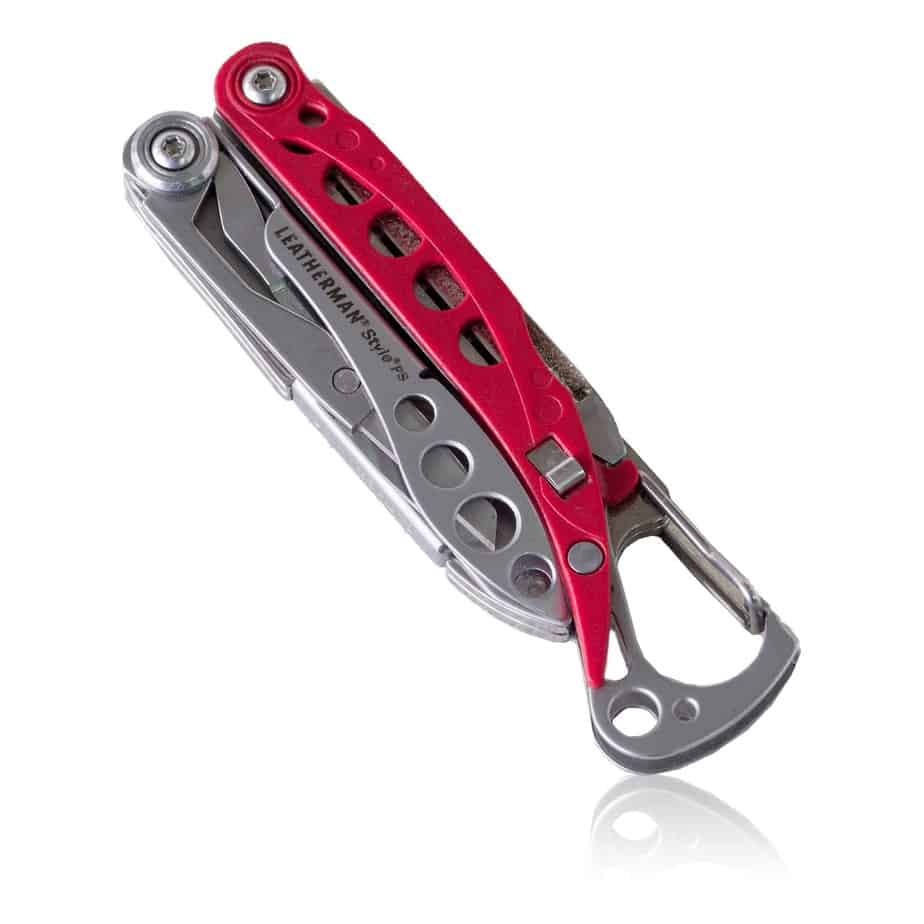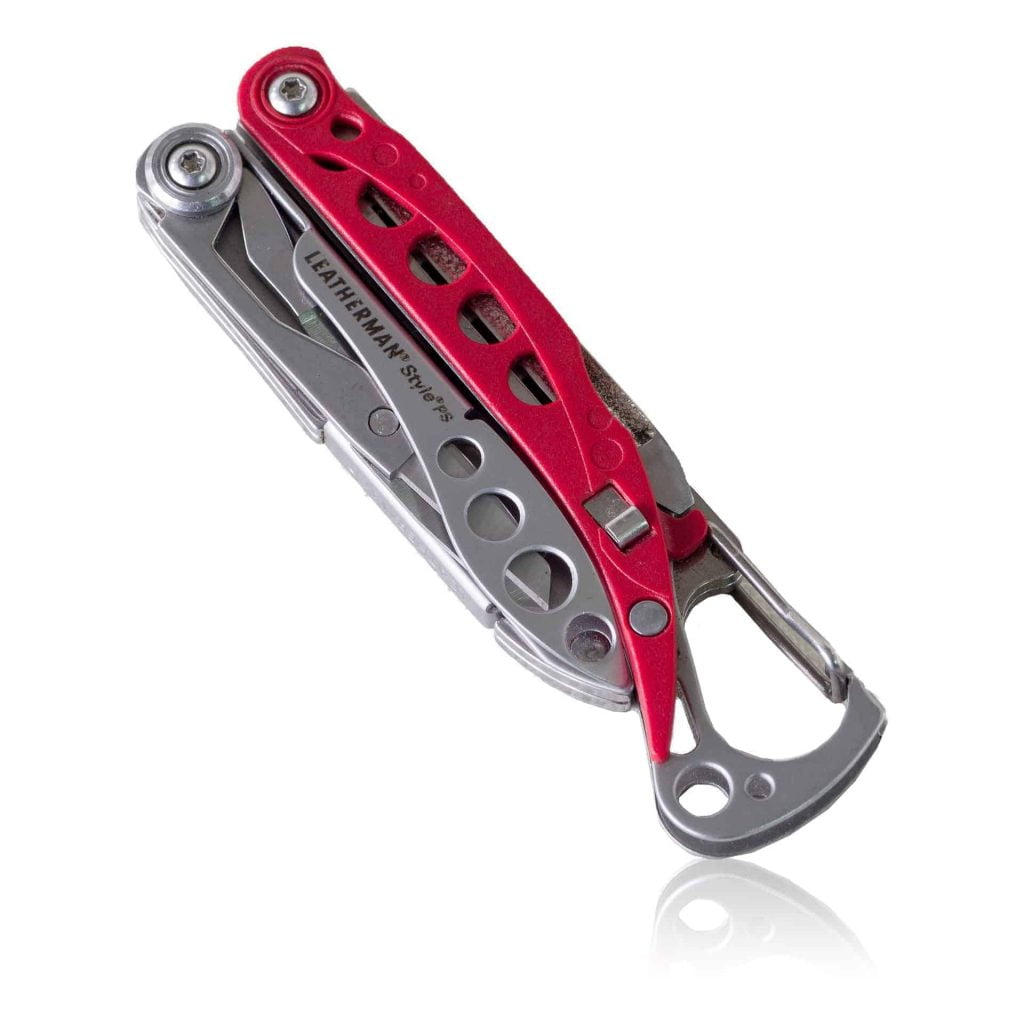 Wire Cutters & Pliers
Cutters and pliers are the main components of any multi-tool. Therefore, the Style PS comes with both. This multi-tool packs in both regular grip and a needlenose point. The pliers work pretty well for fiddly or small applications. The cutter is quite good for up to 14 AWG (American Wire Gauge) without too much of a struggle. The only difficulty you would face is to fit it into extremely small applications due to the stubby needlenose point.
Scissors
Even though the scissors on this multi-tool is very small but it is quite effective. The small blade allows you to cut easily through strings, tags, and other ordinary items. They are surprisingly proven to be equally capable of cutting thicker pieces of packaging and plastics, gliding through paper, and even trimming fabric. The only complaint you might have against the scissors is the small metal arm, which is prone to breakage. But you do not have to worry about this issue as Leatherman provides the replacement of spring arm free of charge.
Screwdriver & Nail File
The combo of the screwdriver and nail file works extremely well as any other tool on the market. The screwdriver works on many flat and small head screws as well as helps you in tightening and adjusting screws on small tools and electronics.
On the other hand, the file has a sandpapery consistency and works well for smoothing a bit of rough plastic or rounding off a broken nail.
Tweezers
If you have ever used a swiss army knife, then you will find the tweezer of this Style PS similar to that. The surprising grip power is due to the evenly standard bend near the tip of the tweezers. They are also relatively sharp and allows you to make fine picks.
Bottle Opener/Carabiner
One of the significant features of the Style PS multi-tool is the carabiner clip. You can easily attach this tiny tool to your zipper pulls, belt loops, keychain, or anywhere else you need it. The bottle opener is funky but quite effective.
Leatherman Style PS Review – The Conclusion
For its price point and compact size, it would be difficult to find a better multi-tool than the Leatherman Style PS. Whether you are a frequent traveler or not, you need this multi-tool fit into your palm or keychain. It provides you with an amazing set of useful tools in a single package. It is designed to deliver an amazing amount of capability whenever you may need it.